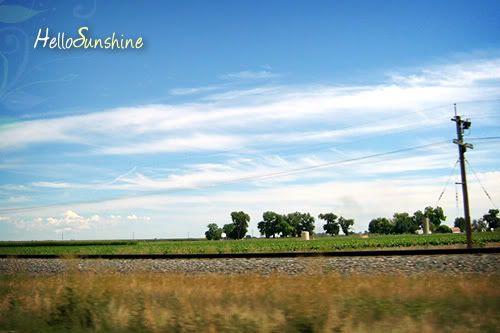 photo: Colorado, August 2005
I suppose living in Colorado does have it perks at times.  Then again, I believe you can find beauty in everything.  I took this photo on the way back up to Greeley after bringing my first year of "college summer vacation" to an end.  This photo is nostalgic at best.
Tonight is the Game 3 of the
Nuggets vs. Lakers series
.  
THIS IS OUR HOUSE!
 The Nuggets have won
16 straight
at home and I believe we will win again tonight!  The Lakers will of course will provide a good challenge, but we can do it!  I definitely WILL NOT fall asleep during this game!  
Last night, I fell asleep during the Cavaliers vs. Magic game!  Ahhhh.  I watched the first two quarters & fell asleep during half-time.  I half woke up during the last 3 minutes of the 3rd quarter (thinking it was the 5th) and quickly fell asleep again.  I woke up during the last minute or so during the 4th.  
I TOTALLY
THOUGHT
I WAS AWAKE
(because I could hear the TV), but I apparently missed the most clutch shot of the night/finals series.  The roar of the announces/crowd quickly woke me up as I saw King James erupting in excitement.  The constant replays of his game winning shot throughout the rest of the night totally made up for it though.  This play was the talk of the town.
I'm making sure I'm not falling asleep this time.  This game will be crucial to the momentum and morale of the team.  
GO NUGGETS!
 I need to put my nuggets gear on.  Since I don't have anyone to watch the game with (Peter's at work), I can go crazy and jump up and down without a care in the world.  Lol.  It'll be fun.
Yes, I'm sure everyone has noticed by now the way in which Peter has influenced me, my life, & my choice of sports entertainment these days.  Not that I didn't enjoy these things before, but I've actually taken it upon myself to watch sports.. even if I'm by myself.  5 years ago, I wouldn't be able to say the same.
On a side note, before I take a quick shower...
writing
 has proved to be a challenge.  Endorsing a check & writing a deposit slip shot sharp pains through my fingers.  Ugh.  It made driving a biatch to say the least.  I grinded my gears
TWICE
yesterday.  It's the first time I've done this to my car in the 8 months that I've owned it.  It's not a pretty sound.  Anyway, I just have to laugh because my mom is really sad about not being able to write as nice & neat as she used to (side effect of .. yah).  She's been practicing her handwriting daily.  Me, I think I'll just avoid it altogether for now.
heart.shatter   ... good thing its a 7 game series.
wayyyyy too many stupid plays.  way too many fouls.  & way too many selfish plays.  get smarter nuggets!